New York man dies during police arrest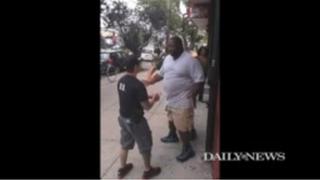 A man has died during an arrest in New York after a police officer appeared to put his arm around his neck.
Eric Garner, 43, is said to have suffered a heart attack while struggling with multiple officers.
The 350lb (159kg) man complained he couldn't breathe as he was forcibly detained on suspicion of selling untaxed cigarettes on Thursday.
Garner had reportedly been arrested 31 times since 1988 on charges including drug possession and assault.
Inquiries launched
"We have a responsibility to keep every New Yorker safe, and that includes when individuals are in custody of the NYPD [New York Police Department],'' Mayor Bill de Blasio wrote in a statement on Friday, expressing his condolences to Garner's family.
Garner was reportedly sitting down outside a beauty salon in Staten Island when police approached him and said they had observed him selling loose cigarettes.
"Before they even grabbed him, he told them he wasn't feeling good and that's why I pulled the camera out and started recording," witness Ramsey Orta told the Associated Press news agency.
In a video of the incident, obtained by the New York Daily News, Garner can be seen arguing with officers as they attempted to detain him, saying: "Do not touch me."
An officer put his arm around Garner's neck and several other men forced him down on to the sidewalk, where he could be heard saying: "I can't breathe."
A spokesman for New York Police Department declined to comment.
Prosecutors and police investigators have both launched inquiries into Garner's death.
A post-mortem examination was scheduled for Friday, though results have yet to be announced.