Early release for thousands of drug convicts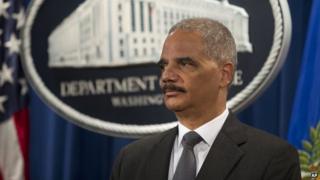 Tens of thousands of inmates in prison for drug crimes have become eligible for early release under a plan to reduce prison numbers and costs.
The US Sentencing Commission earlier this year voted to substantially lower recommended sentences for drug dealers.
And on Friday it made this retroactively apply to 46,000 prisoners now behind bars.
The US has almost a quarter of the world's prison population - one in every 99 Americans is behind bars.
No prisoner is to be freed until November 2015 and the releases are to be phased in over a period of years.
'Significant'
The commission, an independent panel that sets sentencing policy, has said sentences would be cut by an average of 25 months.
Before the vote, US District Judge Patti Saris, the commission chairwoman, said: "The magnitude of the change, both collectively and for individual offenders, is significant."
Supporters of the plan say it would cut prison costs - nearly half the federal prison population is locked up for drug crimes.
"Even though retroactivity and individualised assessment for all eligible persons is time-intensive and administratively burdensome, it is the right thing to do so that we can again ensure that our criminal justice system is fair to all concerned," said US District Judge John J McConnell Jr of Rhode Island.
But an organisation representing federal prosecutors, the National Association of Assistant United States Attorneys, said the change would lead to higher crime.
"The strong sentencing scheme that has been in place over the last 25 years in our country has contributed to the lowest crime rates in more than a generation," it wrote in a statement.
Last year, Attorney General Eric Holder asked federal prosecutors to refrain from seeking mandatory minimum sentences for non-violent drug offenders.
Judges rely on sentencing guidelines in issuing prison sentences, and the commission in April voted to lower recommended sentences across all types of drugs.
On Friday, Mr Holder called the new plans "a milestone in the effort to make more efficient use of our law enforcement resources and to ease the burden on our overcrowded prison system".