Gaza conflict: Two Americans in Israeli forces killed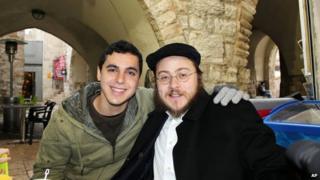 Two Americans killed on Sunday during fighting between Israel and Palestinian militants in the Gaza Strip have been identified, US officials say.
Max Steinberg, 24, and Nissim Sean Carmeli, 21, were fighting for the Israel Defense Forces (IDF).
They were among 13 Israeli soldiers killed on Sunday. More than 100 Palestinians were also killed on Sunday.
The UN Security Council has called for an immediate ceasefire in Gaza.
"We can confirm the deaths of US citizens Max Steinberg and Sean Carmeli in Gaza," state department spokeswoman Jen Psaki said on Sunday, declining to provide further details.
Steinberg, who hailed from California, was reportedly a sharpshooter for the Golani Brigade, the Associated Press news agency reports.
"He was completely dedicated and committed to serving the country of Israel," his father, Stuart Steinberg, told the AP.
"He was focused, he was clear in what the mission was, and he was dedicated to the work he needed to be doing."
Carmeli was a sergeant from Texas who moved to Israel four years before.
"He had great energy, yet had a kind and gentle soul," said family friend Rabbi Asher Hecht. "We lost a gem."
More than 500 Palestinians, mainly civilians, have been killed since the Israeli offensive began 13 days ago, Gaza's health ministry says.
Sunday was the deadliest day since the start of Israel's offensive.
Israel says it has killed more than 170 militants since it launched its ground offensive on Thursday night.
The UN Security Council has issued a call for an "immediate cessation of hostilities", but did not endorse a strongly worded draft resolution backed by Arab states.
In Egypt, US Secretary of State John Kerry is due to hold talks to try to arrange a ceasefire.
Overnight strikes in southern Gaza left more than 30 members of two Palestinian families, Gazan health officials said.
Meanwhile, Hamas launched fresh rocket attacks and used tunnels to infiltrate Israel near the town of Sderot. All 10 intruders were killed, Israel said.
Twenty Israelis - 18 of them soldiers - have died, Israel says, as it seeks to end rocket fire from Gaza.