Haris Suleman dies in crash during around-the-world flight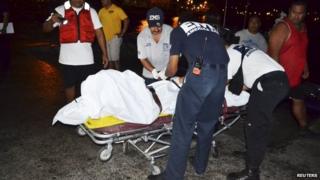 A US teenager and his father who crashed during an attempt to fly around the world knew the risks of the journey, a relative has said.
Haris Suleman, 17, of Indiana, and father Babar crashed their Beechcraft into the ocean near American Samoa.
Haris' body has been recovered but that of Babar has not.
On Tuesday they were on the final leg of an attempt to fly around the world in 30 days to raise money for a charity that builds schools in Pakistan.
"You know in a trip like this there is always a risk, and they did prepare for the risk," Ms Suleman, daughter of Babar and sister to Haris, told reporters.
"They went to survival training. They took a course on how to survive and ocean landing, or an ocean crash. But you know, you can plan all you want but sometimes things just don't go the way that you plan."
Investigators believe the father and son team took off from Samoa about 21:50 local time (08:50 GMT), and that about 25 minutes later an air traffic controller saw the plane's lights go down, Ms Suleman said.
She said the plane crashed about 23 miles (37km) off the coast.
"They have not found my father so we are still hopeful and we're asking everybody to pray that he is returned safely and soon," she said.
The pair aimed to raise $1m (£586,851) for the Citizens Foundation, a non-profit organisation that builds schools for underprivileged children in Pakistan, the charity said in a statement.