Wine fraudster Rudy Kurniawan sentencing delayed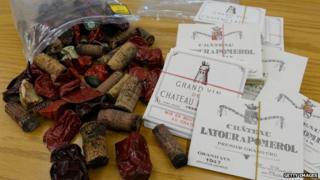 A California wine dealer found guilty in New York of manufacturing fake vintage bottles for illegal profit has had his sentencing postponed.
Rudy Kurniawan, 37, was convicted in December and will now be sentenced on 4 August.
He was accused of fooling buyers into thinking wine made in his kitchen in Arcadia was rare.
Arrested in 2012, the Indonesian-born vintner was accused of selling at least $20m (£11.8m) in counterfeit bottles.
"[He] liked the feeling of being the centre of attention. It gave him a feeling of achievement and belonging that he had never before experienced," defence lawyer Jerome Mooney said of his client's previously elevated role in the prestigious wine community.
Analysis - Michelle Fleury, BBC News, New York
Rudy Kurniawan built up a reputation as someone with access to hard-to-find wines. But when the FBI knocked at his door, they discovered that his "magic cellar" was in fact his kitchen.
Inside his California home there was a drawer full of fake wine labels and foil wrappers used to cover corks. In this makeshift wine laboratory he would mix together cheaper wines to mimic more expensive vintages.
Restaurants would send him empty bottles which he would re-use. But how was he able to fool industry experts and collectors for eight years?
A lot has been written about his sophisticated palate. One person I spoke to likened him to a great art counterfeiter; he took pride in what he did, working hard to create mixes with a lovely mouth feel. But for collectors who own his fake wines, this whole episode has left nothing but a sour taste.
Mr Mooney earlier told the court Kurniawan should be sentenced to time served since he would likely be deported.
He faces up to 40 years in prison, and federal guidelines call for at least 11 years in prison.
But prosecutors argued Kurniawan deserved a longer sentence because he flaunted his ill-gotten gains "with extravagant purchases of authentic wine, luxury cars, a Beverly Hills mansion, flights on private jets, designer watches and clothing, fine art and much more".
He "is not sorry for what he did, he is sorry that he was caught", prosecutors said. "The court should thus not show Kurniawan any leniency."
Authorities were said to have found thousands of labels for fine Burgundy and Bordeaux wine along with full, unlabelled bottles in Kurniawan's home.
An avid collector himself, Kurniawan was once considered one of the best aficionados in the world.
In 2006 alone, it was believed he sold up to 12,000 bottles at auction.