Ex-Virginia governor McDonnell begins corruption trial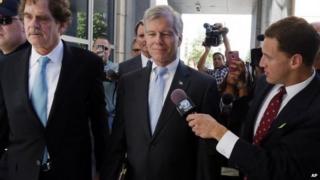 Jury selection has begun in the trial of ex-Virginia Governor Bob McDonnell, who is accused of accepting loans and lavish gifts from a supporter.
He was indicted after leaving office in January and charged with accepting $165,000 (£97,144) from the head of a dietary supplements firm in return for promoting its products.
The Republican says he exercised bad judgment but did not break the law.
He and his wife Maureen face decades in prison if convicted on all counts.
Once rising star
They are charged with 14 counts in total, including fraud against the citizens of Virginia, obtaining property under colour of official right, and false statements.
The federal investigation into the finances of the once-rising Republican star cast a shadow over his last few months as governor. He left office in January after his four-year term ended, and was succeeded by Democrat Terry McAuliffe.
Mr McDonnell was once considered a possible running mate to Republican presidential candidate Mitt Romney running in 2012.
Lawyers from both sides were selecting jurors on Monday at a federal courthouse in Richmond, Virginia, the state capital.
According to prosecutors, Jonnie Williams, former chief executive of Star Scientific, gave the McDonnells a $50,000 loan without paperwork, multiple golf trips, vacations at Mr Williams' vacation home, and a shopping trip for tens of thousands of dollars in designer clothing for Mrs McDonnell.
Political courtesies
In return, prosecutors say Mr McDonnell used his influence as governor to help Star Scientific on an "as needed basis", including inviting the company's executives to a reception for healthcare leaders in Virginia, as well as making a personal pitch about a company product to state officials during a meeting about reducing staff healthcare costs.
Mr Williams will testify against Mr McDonnell under a deal to protect him from further prosecution.
Other potential witnesses on the prosecution's list, released on Monday, include Maureen McDonnell and the couple's three children, Sean, Rachel and Bobby.
Lawyers for the former governor say federal investigators were criminalising common political courtesies, like hosting receptions and arranging meetings, and that no government grants were awarded, nor did Mr McDonnell take official action on his behalf.
The indictment also accuses the McDonnells of attempting to hide the loans and other financial benefits from Mr Williams.
Mr McDonnell has said he paid back $120,000 (£70,650) of the money in question.