Congress announces deal on veterans affairs health fix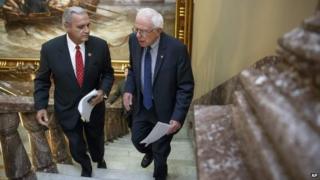 Veterans affairs leaders in Congress have announced a compromise to help address the problems overwhelming the US veterans healthcare system.
Senator Bernie Sanders and Congressman Jeff Miller announced a $17bn (£10bn) deal that reconciles Senate and House bills passed in June.
The agency has been stung by revelations of falsified records and months-long waits for appointments.
It provides healthcare to about nine million veterans.
The agency has been overwhelmed in recent years by the surge of aging Vietnam veterans and young veterans of Iraq and Afghanistan seeking care.
A recent VA audit revealed more than 57,000 veterans had to wait three months or longer for initial healthcare appointments. An additional 64,000 veterans who requested appointments over the last 10 years never received them.
At the same time, it has been revealed hospital employees falsified records to conceal the long wait times from administrators in Washington DC.
The agreement announced on Monday includes about $10bn in emergency spending for veterans to obtain outside care if they cannot get prompt appointments with Veterans Affairs (VA) doctors, $5bn to hire doctors, nurses and other medical staff, and $1.5bn to set up 27 new VA clinics around the country.
Mr Sanders, the Senate veterans committee chairman who is one of the most liberal members of the chamber, said the legislation "makes certain that we address the immediate crisis of veterans being forced on to long waiting lists" while strengthening the VA's ability to hire medical professionals and "permanently put an end to the long waiting lists".
The bill, which will need to be approved by both the House and Senate, would also grant the VA secretary authority to fire senior executives immediately.
Veterans advocates were cautious in their praise for the deal.
"There is an emergency need to get veterans off the waiting lists," Louis Celli, legislative director for the American Legion, told the Associated Press News agency. "That's what this is all about."
But Tom Tarantino, chief policy officer of Iraq and Afghanistan Veterans of America, said the agreement was several months too late.
"It's about time they're doing their jobs," he said. "You don't get a medal for doing your job."
The deal was struck over the weekend after six weeks of talks. Among the compromises was a provision limiting outside care to veterans who had enrolled prior to 1 August.
Congressional budget analysts had suggested that without limits, tens of thousands of veterans who currently are not treated by the VA would likely seek care if they could see a private doctor, dramatically increasing costs.
In another compromise, $5bn of the $17bn would be offset by other spending cuts within the VA.
Veterans Affairs chief Eric Shinseki resigned in late May amid the scandal, after a damning internal VA investigation uncovered the "systemic" problems in delivering care to veterans across the country.
Robert McDonald, former chief executive of consumer goods giant Procter and Gamble, is expected to be confirmed by the US Senate to succeed Mr Shinseki this week.