Oceana Irizarry dies after being struck by crashing plane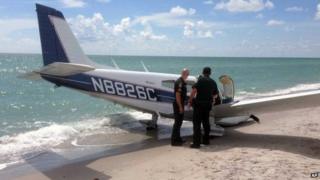 A girl who was struck by a plane that crash landed on a Florida beach on Sunday and killed her father has died of her injuries, police have said.
Oceana Irizarry, 9, was walking with her father Ommy, a US Army first sergeant, on a beach in Venice on Sunday when the plane struck them.
Pilot Karl Kokomoor, who radioed a distress call before the crash, and a passenger were uninjured.
The National Transportation Safety Board is investigating the accident.
Oceana was airlifted to hospital immediately after the crash on Caspersen Beach. Her father was pronounced dead at the scene.
On Tuesday, the Sarasota County sheriff's office said in a statement the medical examiner's office had informed them Oceana had died of her injuries.
"Our precious Oceana has joined her daddy in heaven," the family said in a statement released by All Children's Hospital.
"There are no words to describe the suffering we are experiencing. Their loss is devastating to our family and to everyone who knew them."
Sgt Irizarry and his wife, who lived in Georgia, were in the area celebrating their ninth anniversary, the Tampa Bay Times reported.
Mr Kokomoor was attempting to land at Venice Municipal Airport, adjacent to the beach, when he radioed to say the small aircraft was in trouble and he would try to make an emergency landing.
After striking the father and daughter, the plane travelled another 150ft (46m) before crashing into the sand, the Sarasota sheriff's office told Reuters news agency.
In emergency calls from the beach, a family friend is heard crying as she described the scene of the crash.
Another man told emergency officials Oceana was "breathing a little right now", but she was struggling to do so and unconscious.