Canada National Research Council 'hacked by Chinese spies'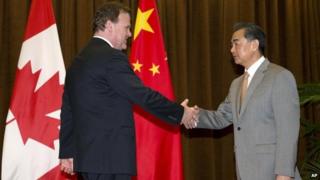 A top Canadian government research organisation has been struck by Chinese hackers, the government has said.
The computer infrastructure of the National Research Council was breached by a "Chinese state-sponsored actor", the Canadian Treasury Board said.
The board said the "highly-sophisticated" intrusion was confirmed by one of Canada's spy agencies.
The Chinese embassy in Ottawa said dismissed the report as a "groundless allegation".
"China-Canada relations have maintained a good momentum," said embassy spokesperson Yang Yundong. "We are ready to work together with the Canadian side to create a peaceful, secure, open and cooperative cyber space."
In a statement on Tuesday, the Treasury Board said there was "no evidence" hackers had compromised data in other government systems.
But the board said the National Research Council's computers have been isolated from the rest of the government's systems as a precaution.
The Canadian National Research Council is a research and development agency advised by private industry that is tasked with bringing new technologies to the market.
Canadian Foreign Minister John Baird was in Beijing on Tuesday as part of a trade mission.
A spokesman for Mr Baird said he and his Chinese counterpart had a "full and frank exchange of views on the matter".