Campus sex assault bill gets bipartisan push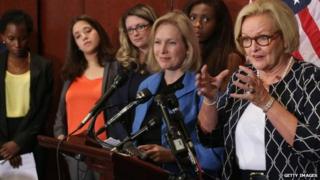 A cross-party group of US senators have introduced a bill aimed at reducing sexual assault on university campuses.
The legislation comes as researchers estimate one in five women are sexually assaulted while in US universities.
And a recent survey found 40% of US universities had not conducted a sexual assault investigation in the past five years.
The bill would quadruple the penalty for underreporting assaults and overhaul training and other policies.
'Lift the burden'
On Wednesday, a group of Republican and Democratic senators were joined on Capitol Hill by campus sexual assault survivors to announce the bill.
Its provisions include:
Requirements that universities designate confidential advisers for those who have been assaulted
Requires employees involved in the assault claims process to have a minimal level of specialised training
A nationwide, anonymous survey about students' experience with sexual violence on campuses
Increasing fines for failing to report a campus crime, including sexual assault, to $150,000 (£88,751) from $35,000
New York Senator Kirsten Gillibrand, a Democrat, told reporters a young woman was more likely to be sexually assaulted if she attended university than if she did not.
---
Analysis - Rajini Vaidyanathan in Washington
This bill is the latest sign that authorities are prepared to take aggressive action against universities over their treatment of sexual assault survivors.
For too long, victims say, their voices have been silenced by institutions which fail to deal with their complaints fairly, brushing them away for fear their reputations could be damaged. Some students say they were told to come face to face with their attackers at internal university disciplinary hearings and made to continue attending lectures in the same room as them, while perpetrators have reportedly been ordered to write apology essays as their only punishment.
Very rarely do cases make it to the courts, in part because universities and law enforcement lack proper protocols in place to report crimes.
---
Ms Gillibrand cheered student organising efforts on the issue, saying she was "inspired by them" and that the bill would "lift the burden" of fighting for sexual assault protection from victims onto universities.
"None of the students deserve to deal with a university that is afraid of bringing attention to these crimes because application numbers might diminish," she said.
Ada Meloy, general counsel of the American Council on Education, which represents college presidents, said universities were working to address the problem of sexual assault in difficult circumstances.
'Significant marks'
Ms Meloy told the Associated Press news agency many colleges wanted to work with local authorities, but law enforcement is hesitant to do so given the difficulties of prosecuting rape and sexual assault cases.
One of the survivors of assault who spoke, Wagatwe Wanjuki, said her university refused to help her after multiple sexual assaults in an abusive relationship and then expelled her when she began campaigning for better sexual assault policies.
"Tufts' refusal to support me has left significant marks in the years since," said Ms Wanjuki, who said she will be graduating from university in August, six years after she originally planned to do so because of the expulsion.
The bill's way forward is unclear this year as the US Congress goes on a month-long recess at the end of the week, but the bill's bipartisan push is rare.
Among the sponsors are Democrats Senators Claire McCaskill, Richard Blumenthal, Ms Gillibrand, and Mark Warner, as well as Republican Senators Dean Heller, Chuck Grassley, Kelly Ayotte and Marco Rubio.