Virginia ex-governor Bob McDonnell's wife 'sought gifts'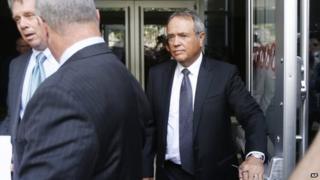 The star witness in a corruption trial of the ex-governor of Virginia and his wife has testified the former first lady sought gifts and loans in return for help with his business.
Prosecutors say Jonnie Williams gave Bob and Maureen McDonnell gifts and loans totalling $165,000 (£97,000).
Mr McDonnell denies wrongdoing. His wife says their marriage was frayed and she had a "crush" on Mr Williams.
On Thursday, Mr Williams said buying gifts for the couple was poor judgment.
The head of a vitamin supplements company called Star Scientific, he said buying a $6,000 Rolex watch on the request of Maureen McDonnell was "a bad decision on my part".
"I shouldn't have had to buy things like that to get the help I needed," Mr Williams told jurors as they inspected the watch in question.
He also denied being friends with the McDonnells.
Prosecutors say Mr McDonnell was in financial need and traded on his position to win gifts of travel and cash from Mr Williams, for whom he arranged meetings with state officials.
But Mr McDonnell argues he was only doing for Mr Williams what he would for any Virginia businessman.
On Wednesday Mr Williams testified Mrs McDonnell asked him for money and to pay for high-end shopping trips, offering to connect him to the governor in return.
Mr Williams, to whom prosecutors have granted immunity, said he insisted on speaking to the governor before giving her any cash, and testified that the governor subsequently thanked him for his generosity.
As his testimony resumed on Thursday, the chief executive said he refused some of Maureen McDonnell's requests because he believed they would be too visible - including vehicles for two of Mr McDonnells' children and purchasing the couple's money-losing rental properties.
Mr Williams also said he decided against a secret stock transfer to Mr McDonnell because he could not have hid the transaction from US regulators.
Mr McDonnell, once a rising star in the Republican Party with aspirations for national office, left office in disgrace in January at the end of his term. Virginia governors are barred from running for a second consecutive term, and he was succeeded by Democrat Terry McAuliffe.