Three-day water ban in Ohio lifted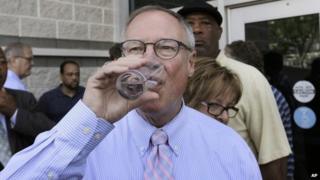 A water ban for about 400,000 people in the US state of Ohio has been lifted after tests showed toxin levels from an algae bloom were no longer dangerous.
"Our water is safe," Toledo Mayor Michael Collins said on Monday, finishing his press conference by drinking a glass of city water.
The ban began on Saturday after algae bloomed on the west side of Lake Erie, where the city gets most of its water.
Officials warned boiling water could increase the concentration of toxins.
The main toxin, microcystin, leads to nausea, diarrhea, vomiting and can affect liver functions if ingested, but it is rarely deadly to humans, health officials said.
Water systems in homes and business must be flushed out before water can now be used, the city council declared.
But testing done by the city, state and the US environmental protection agency all came back indicating below-dangerous toxin levels.
Algae blooms are common in the summer in Lake Erie, often caused by run-off from overfertilised land or malfunctioning septic systems.
But Toledo's antiquated water treatment systems were also at fault, Mr Collins said.
The city's mayor said he will seek funds from the Federal Emergency Management Agency to cover the cost of the crisis.
"We took a huge hit from a financial perspective," he said.
Over the weekend, the Ohio National Guard gave out 33,000 US gallons (125,000 litres) of clean water across 10 water distribution centres in Toledo.
And Ohio officials were investigating claims of price gouging for water during the ban, the Toledo Blade newspaper reported.
Earlier, Governor John Kasich declared a state of emergency for three counties in Ohio, allowing the state to direct resources to the affected areas.