Second American Ebola patient to head to US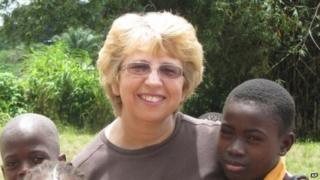 A second American infected with the Ebola virus in West Africa will shortly be flown to the US for treatment, Liberian officials say.
Nancy Writebol was expected to leave on a specialised aircraft for Atlanta at 01:00 local time on Tuesday.
Her son said Ms Writebol, who was in Liberia with a Christian aid group, "is still struggling" but that "there seems to be improvement".
The outbreak has killed more than 800 people in the region.
On Monday, Nigeria recorded its second Ebola case - one of the doctors treating a man who died from the virus after his arrival from Liberia.
Another American infected with the virus, Dr Kent Brantly, arrived in the US on Saturday and was said to be improving at a isolation unit at Emory University Hospital in Atlanta.
After the plane landed at a base outside the city, Dr Brantly was brought to hospital by an ambulance alongside a police escort. Dressed entirely in white protective clothing, he walked unaided into the hospital.
"Our family is rejoicing over Kent's safe arrival, and we are confident that he is receiving the very best care," Amber Brantly, his wife, said in a statement.
Also on Monday, health officials at Mt Sinai hospital in New York reported they were testing a patient for Ebola.
They said the unidentified individual had returned from West Africa within the past month and turned up at the emergency room early in the morning with symptoms of fever.
But they said they were confident that the patient's symptoms had a cause other than Ebola.
According to the UN, more than 60 of the Ebola deaths so far have been healthcare workers.
There is no cure or vaccine for Ebola but patients have a better chance of survival if they receive early treatment.
Both American patients received an experimental treatment, according to international relief group Samaritan's Purse, which Dr Brantly works for.
The drug had never been used in humans before, but had shown promise in monkeys, CNN reports.
It was originally reported only Ms Writebol had received the treatment.
Ms Writebol has received two doses and is showing improvement, said Palmer Holt, a spokesman for her aid organisation, SIM.
Mr Holt said she was walking with assistance on Monday and her appetite had improved.