New York Rikers Island teen jails 'violent and unsafe'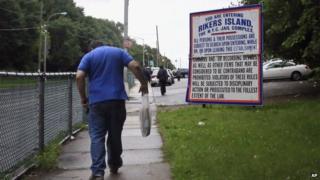 New York's juvenile jails are extremely violent and unsafe and violate the rights of their teenage inmates, a federal government report has found.
The two-and-a-half year investigation looked at three jails for 16-18-year-olds on the city's Rikers Island.
The justice department report found a culture of violence in which guards subjected inmates to "unnecessary and excessive force".
It criticised the overuse of solitary confinement for mentally ill inmates.
Since his election last year, New York Mayor Bill de Blasio has promised to reform the city's jail system, which holds an average of 11,500 inmates at any one time.
In March, he appointed Joseph Ponte, a long-time corrections official from Maine with a reputation as a reformer, to deal with the issue.
Rikers Island 'broken'
In the report, investigators from the office of the US attorney for the southern district of New York found that Mr de Blasio had inherited many of the problems in the detention system which, they said, have been pervasive for years.
"As our investigation has shown, for adolescents, Rikers Island is a broken institution," said Preet Bharara, the US attorney, said in a news conference.
"It is a place where brute force is the first impulse rather than the last resort, where verbal insults are repaid with physical injuries, where beatings are routine while accountability is rare, and where a culture of violence endures even while a code of silence prevails."
Investigators found guards often struck inmates in the face and head with closed fists, and that staff and potential witnesses were instructed not to report uses of force.
In one incident, they found four unidentified inmates had suffered broken noses, perforated eardrums, head trauma and facial injuries during what it described as a "brutal use of force'' involving multiple guards.
Inmates told the report's authors that they were assaulted after getting into arguments with jail guards.
Recommendations
However, staff disputed that account and investigators reported they failed to conduct a proper investigation into the incidents.
The report also found that the jails were ill-equipped to cope with adolescents who were often belligerent and suffered from a wide range of mental illnesses and behavioural disorders.
In particular it highlighted the excessive use of solitary confinement for teenagers with mental health issues.
The report's authors recommended a number of changes, including employing better-trained guards, installing more surveillance cameras, and establishing a zero-tolerance police for failure to report use of force.
Federal prosecutors have warned that if the report's recommendations were not implemented, the justice department could bring a federal lawsuit against the city.