Sgt Bowe Bergdahl questioned over capture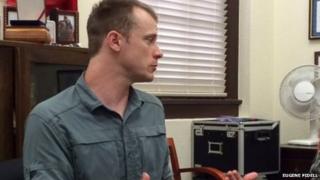 Sgt Bowe Bergdahl is being questioned by the lead Army investigator over the circumstances of his capture.
Major General Kenneth Dahl will seek answers on whether Sgt Bergdahl intended to desert when he walked off a military base in Afghanistan in 2009.
The former prisoner of war has been working at a desk job at Fort Sam Houston in San Antonio, Texas, since he returned to duty.
Sgt Bergdahl was held for five years by the Taliban and released in May.
The move was part of a prisoner swap that meant the release of five Taliban inmates from Guantanamo Bay, a deal that was harshly criticised by some US politicians.
The US military earlier concluded he walked away from his base without authorisation before his capture, but have stopped short of accusing him of desertion.
The Army sergeant has retained a civilian lawyer who will be present during the questioning.
Eugene Fidell, a Yale law professor, told US media he had spent the day on Tuesday with Sgt Bergdahl preparing for the proceedings.
"We will be as co-operative as possible with General Dahl," Mr Fidell told NBC News.
Sgt Bergdahl is not currently facing charges.
After his investigation concludes, Gen Dahl will make recommendations to the office of the army's chief of staff about how Sgt Bergdahl's case should proceed, including whether to charge him with desertion.
"And after that the Army Staff will have to make some hard decisions about what ought to be done," Mr Fidell told a local broadcaster.
Sgt Bergdahl arrived in Texas in June after short time at a US military hospital in Germany following his release.
Military officials said he had finished a "reintegration" process in mid-July, designed to help prisoners of war and other people held in captivity return to a relatively normal life.