Hurricane Iselle and Hurricane Julio threaten Hawaii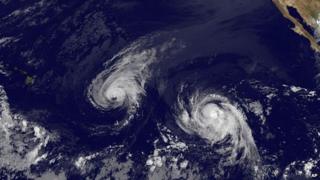 Hawaiians are stocking up on supplies as twin hurricanes barrel toward the Pacific island US state, threatening heavy winds and flash flooding.
Hurricane Iselle was 925 miles (1,489km) east of Honolulu on Wednesday morning and expected to make landfall as early as Thursday.
Hurricane Julio could arrive in Hawaii two days later.
The last cyclone to hit Hawaii, Hurricane Iniki in 1992, killed six and caused $2.4bn (£1.4bn) in damage.
Most of Hawaii is now under a tropical storm warning or watch as Iselle moves towards the island chain with maximum sustained winds up 75mph (121 km/h).
"The tracks of Iselle and Julio are definitely a call to prepare," state Emergency Management Administrator Doug Mayne told the Honolulu Star-Advertiser newspaper.
"Our goal isn't to scare anyone, but we want to make sure Hawaii's citizens and visitors have what they need to stay safe and healthy."
The island chain's Big Island was expected to see Iselle first.
The state's department of emergency management has asked residents to prepare a seven-day emergency kit, including non-perishable food and water.
Hawaii's remoteness from the mainland makes it hard to get emergency supplies to the state.
A Honolulu warehouse store ran out of a pallet full of bottled water on Tuesday, and shoppers emptied it again when it was refilled.
"Days like today, in a situation like this, we just throw open the doors and hold on for the ride," Scott Ankrom, assistant general manager of the Costco in Honolulu. told the Associated Press.
School teacher Gina Nakahodo told Reuters she had not been too worried about the situation until she saw the water aisle at her grocer empty on Tuesday.
"We've had so many storms that have passed us by, but with these two back to back you begin to worry," she said. "Then all of the sudden the aisles are empty and there's no water and it makes your heart pound a little."
Julio, with maximum sustained winds of 75mph, may pass north of the islands in three to four days.
But Lixion Avilia, a senior hurricane forecaster with the US National Weather Service told the Associated Press news agency it was still too far away to predict the actual path.