Obama: 'I won't twiddle my thumbs' if Congress won't act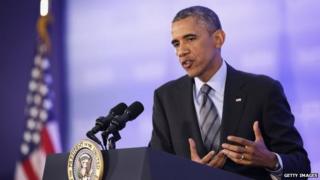 President Barack Obama has defended his right to act without Congress' approval in order to address the pressing issues facing America.
On Wednesday, Mr Obama, a Democrat, said he needed to circumvent inaction in the Republican-led House of Representatives to make progress.
The president said he was acting within the limits of his powers.
But last month, the House authorised its lawyers to sue Mr Obama, accusing him of violating the constitution.
At a news conference concluding a Washington summit with African leaders, the president said he had chosen to act unilaterally because of gridlock within Congress and the House of Representatives in particular.
"The American people don't want me just standing around twiddling my thumbs and waiting for Congress to get something done," he said.
Referring to the House of Representatives' refusal to vote on a cross-party immigration bill passed by the Senate, Mr Obama said he would still prefer to work with Congress, which can act more broadly, effectively and permanently than he can on his own.
He also noted lack of action on what he said was needed transportation and infrastructure funding and changes in corporate tax policy.
"What the American people expect is that, despite the differences between the parties, there should at least be the capacity to move forward on things we agree on," he said, noting polls show most Americans agree on actions needed to be taken on immigration.
"In the face of that kind of dysfunction, what I can do is scour our authorities to try to make progress."
The vote to sue Mr Obama is the first time either the House or Senate has brought legal action against a president over the legality of his actions, although individual members of Congress have sued the president before.
Republicans in Congress have alleged that Mr Obama has exceeded his constitutional authority on numerous occasions, illegally bypassing Congress.
They object, for instance, to his order unilaterally easing deportations of some young illegal immigrants, and to the prisoner exchange that won the release of a US soldier held captive for five years by the Taliban.
"This isn't about Republicans or Democrats. It's about defending the constitution we swore an oath to," Speaker John Boehner said during an impassioned debate in the House in late July.
"Are you willing to let any president choose what laws to execute and what laws to change?"