Democrat John Walsh drops campaign over plagiarism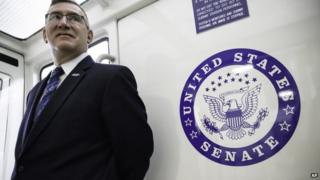 Democratic Montana Senator John Walsh is dropping his campaign for office amid allegations he plagiarised part of a university paper he wrote in 2007.
Mr Walsh was appointed to the Senate in February to replace now-US Ambassador to China Max Baucus, and was running for election to the seat in November.
He has said he will continue to serve until his term ends in January.
Republicans only need a net change of six seats in November's election to take control of the Senate.
Mr Walsh, a former adjutant general of the Montana National Guard, told supporters he was ending his campaign to focus on "fulfilling the responsibilities" of being a senator.
"You deserve someone who will always fight for Montana, and I will," he said in a statement.
'Unintentional mistake'
In July, a New York Times investigation compared Mr Walsh's 14-page thesis for the US Army War College with several previously published scholarly works.
One 800-word section of Mr Walsh's paper appears to have been taken directly from a 2002 Carnegie Endowment for International Peace report on Middle East democracy and US foreign policy.
At first, Mr Walsh said he had wrongfully cited part of his thesis in an "unintentional mistake". He put that down to symptoms of post-traumatic stress disorder after serving in Iraq, but later said he was not blaming the condition for his mistake.
The Montana Democratic Party must hold a nominating convention before 20 August to choose a replacement candidate.
Former Governor Brian Schweitzer, whose name had circulated as a promising potential contender, has confirmed that he will not run for the seat.
Mr Walsh's withdrawal is likely to boost the campaign of his Republican Party rival, Congressman Steve Daines, who is giving up his House of Representatives seat to run for Senate, analysts say.