Readers pick women for the dollar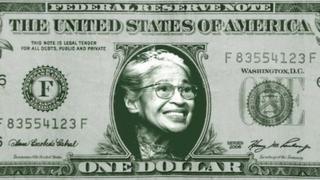 A recent BBC Magazine piece on the absence of women on US paper currency prompted readers to suggest which women they thought should be printed on the dollar. Here are some of the best.
The article discussed President Barack Obama's recent endorsement of a young girl's idea to put women on US bank notes.
The rules state those who grace US money must be dead. It's also useful for someone to be a familiar face beloved by Americans.
There are many women that have graced this earth and have achieved marvellous goals in their lives. One woman that stands out is Mother Teresa. She was a fine individual who surely should be considered as a possibility to grace the dollar bill. Aaron Aloysious, Harrow, UK
Laura Ingalls Wilder. She was born at a time where she is not too distant from living memory yet has a wide recognition by most US people who read her books during their school years. She lived a simple and modest life, working until her death for others without the aim of attaining any higher personal gain other than a modest living income. Alan Coomes, Yate, UK
Maybe I'm missing something here, but it seems to me that there's one absolute stand-out candidate - Rosa Parks. Dom Skelton, Sheffield, UK
Rosa Parks, as a sign that open segregation and inequality of African Americans has no place in today's USA. J Allen, Coatbridge, UK
I really like the idea of featuring Rosa Parks on a bill. The civil rights movement reshaped America's identity in a manner unequalled since the Civil War, and while Ms Park's contribution may have started out as a small act of defiance on a bus, she has become a symbol of that movement equalled only by Dr Martin Luther King, Jr. In addition, her story of an ordinary American making such a profound difference is something that resonates strongly with another motif in American culture - that of the power of the individual. Stian Oksavik, Florida, US
Amelia Earhart is recognisable, heroic, quintessentially American, and most importantly, dead. She should replace Alexander Hamilton as the face of the $10 bill. Mathew Kortuem, Minnesota, US
Amelia Earhart: first woman to fly solo across the Atlantic. Mike Roberts, Bristol, UK
Amelia Mary Earhart - Everyone knows who she is, she was a pioneer, and she's dead. She also stands for independence of women. Jamie Roling, Amsterdam, Netherlands
I believe Americans greatly admire Susan B Anthony. Max Patrick, Middlesbrough, UK
One name springs to mind: Christa McAuliffe. An explorer, pioneer and educator worthy of being remembered by the nation she sought to serve. Megan, Cheshire, UK
I would like to see a Georgia O'Keeffe dollar bill. I would like to see other American artists on the other denominations. Then after a set time, change to writers, inventors, entertainers, engineers, etc. Brian Costello, New Jersey, US
Mary Ann Bickerdyke. She looked after the boys as they died for liberty. Adam Scott, Lowestoft, UK
A woman whose depictions of American life, especially national holidays, were transferred to cookie jars, dinnerware, and many other things. Taking up painting at an advanced age, she became an American icon. Anna Mary Robertson Moses, forever known just as Grandma Moses. William Walker, Portsmouth, UK
I would suggest the following names: Susan B Anthony, Sojourner Truth and Frances Perkins. Iqra Khan, Lahore, Pakistan
Eleanor Roosevelt is my choice. Geronimo, Rickmansworth, UK
Shirley Temple Black would be my choice. As a child she lifted the United States of America out of an emotional depression during the Great Depression and she went on to go into public service and entered politics and became a diplomat, serving as United States ambassador to Ghana and later to Czechoslovakia, and as Chief of Protocol of the United States. She was a greater leader than most politicians. Sharon, California, USA