Moncton shooting: Justin Bourque pleads guilty to murders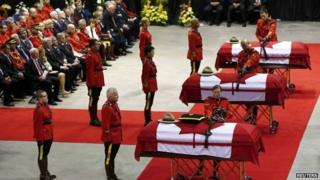 A Canadian man accused of killing three police officers in June in Moncton, New Brunswick, has pleaded guilty to all charges.
Justin Bourque, 24, was arrested after a two-night manhunt following the deadly shootings.
Bourque faces up to three consecutive life sentences during sentencing.
The shooting was the deadliest attack on the country's police force since four officers were killed in the province of Alberta in 2005.
Moncton Mayor George LeBlanc told broadcaster CBC he was "relieved" Bourque pleaded guilty, as the families of the deceased officers would not have to go through a trial.
"It's been a terrible tragedy for the families and has been very, very difficult for all members of the RCMP [Royal Canadian Mounted Police]," he said. "I think that our first thoughts have to be with [them]."
PC Dave Ross, PC Fabrice Gevaudan and PC Douglas Larche were shot and killed on 4 June after responding to a report of an armed man in a residential neighbourhood.
Two other officers were wounded in the shooting.
Residents on the city's north-west side were asked to stay inside as police searched for an armed Bourque in the neighbourhood.
RCMP officers arrested him about 30 hours later in a backyard.
On Monday, Bourque appeared calm as the judge asked him if he understood the charges he was pleading guilty to, CBC reported.
Chief Justice David Smith told Bourque he could face a life sentence for each murder charge.
Bourque also pleaded guilty to two counts of attempted murder.
He was declared mentally fit to stand trial in July after a psychiatric evaluation.
An affidavit by Bourque's father said his son had started to change about 18 months before the shooting - his son became depressed, bought a gun and was kicked out of the house, according to broadcaster CTV.
Two days before the shooting, Victor Bourque said he tried to reason with his son while driving him to work, but his son was "ranting and raging against all authority".