LA Clippers sold to ex-Microsoft boss Steve Ballmer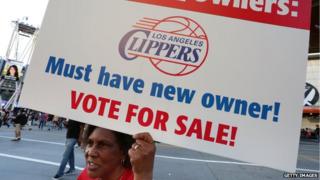 Former Microsoft chief executive Steve Ballmer has purchased the Los Angeles Clippers for $2bn (1.2bn) after a court cleared the way for the sale.
A Los Angeles judge confirmed Shelly Sterling could sell the basketball franchise over the objections of her estranged husband Donald Sterling.
Mr Sterling, the owner since 1981, was banned from the sport for life after he was recorded making racist remarks.
The $2bn sale price is the highest ever paid for an NBA team.
"Really excited - in a pretty hardcore way to continue the path to making the Clippers a better and better basketball team, and a better and better citizen of the Los Angeles community," said Mr Ballmer.
Mr Ballmer moved quickly after the Superior Court Judge Michael Levanas signed the order authorising the sale even if Donald Sterling's lawyers filed an appeal.
"We were ready," lawyer Adam Streisand said. "Within minutes, the deal was signed, sealed and delivered."
The Clippers coach, Doc Rivers, had threatened to quit if he remained owner.
And point guard and president of the players association Chris Paul suggested he would sit out and try to convince other players to join him if Mr Sterling continued to own the franchise.
The 80-year-old real estate businessman had fought in court over a deal his wife said he had initially praised.
Richard Parsons will continue as interim chief executive, Mr Ballmer added.
The sale ends Mr Sterling's run as the longest-tenured owner in the National Basketball Association (NBA). He bought the Clippers in 1981, moving the team from San Diego to Los Angeles in 1984.