Justin Bieber pleads guilty to careless driving in deal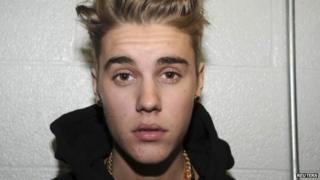 Canadian pop star Justin Bieber has pleaded guilty to careless driving and resisting arrest in a deal that avoided a drugged-driving conviction.
His lawyer Mark Shapiro made the plea in absentia in a Florida court.
Judge William Altfield sentenced the singer to a 12-hour anger management course and fines. Bieber will also donate $50,000 (£30,000) to charity.
Mr Bieber, 20, who shot to fame as a 15-year-old, still faces assault charges in Toronto.
His lawyers have said he is not guilty on those charges. He previously pleaded no contest to a vandalism charge in California for throwing eggs at a neighbour's house.
In the case resolved on Wednesday, Miami police arrested Bieber in January in what officials initially described as an illegal street race between him another singer, but neither was charged with drag racing.
A drug test on Mr Bieber after the arrested showed the presence of marijuana and the anti-anxiety drug Xanax in his system.
The plea deal prosecutors and his lawyers struck reduced a driving under the influence charge to careless driving.
At the hearing, Judge Altfield emphasised that Mr Bieber had been treated the same as any other defendant in his court and noted Mr Bieber had the legal right to be absent as his lawyers pleaded on his behalf.
He stressed that millions of young people look up to the singer and said he hoped he would straighten himself out.
"His whole life is ahead of him, and he just hopefully will get the message, he will grow up, he will use all of his talents positively for young persons," the judge said.
"He has so much to offer and has so much to lose."
Mr Shapiro said thesinger had already made the $50,000 contribution to a local children's charity, called Our Kids.
"He saw a very good cause," the lawyer said. "We've provided the cheque and I think we're all set."