Ferguson clashes ahead of second night of US curfew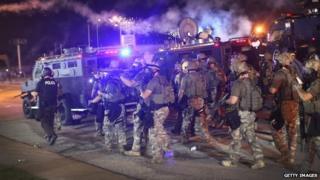 Police fired tear gas to disperse angry crowds ahead of a second night under curfew in the US town of Ferguson, in the state of Missouri.
The curfew is in force from midnight (05:00 GMT) to 05:00 (10:00 GMT).
Police Captain Ron Johnson said he had "no alternative but to elevate our response" after shots were were fired and Molotov cocktails thrown.
The suburb of St Louis has been tense for more than week, since police shot dead a black teenager, Michael Brown.
A preliminary private autopsy report found that Mr Brown was shot at least six times, including twice in the head, the New York Times reports.
US Attorney General Eric Holder has ordered a federal post-mortem on the body of Michael Brown, 18, to take place "as soon as possible".
The bullets did not appear to have been shot from very close range due to the lack of gunpowder on the victim's body, forensic pathologist Michael Baden was quoted by the paper as saying.
He flew to Missouri on Sunday to conduct a separate autopsy at the request of the family.
At the scene: Ben James, BBC News, Ferguson
The Quick Trip is the convenience store on a petrol station forecourt in Ferguson, wrecked in violence a week ago. They call it the Ground Zero of the unrest in Ferguson.
Parked there after 21:00 on Sunday evening, we could see clouds rise up behind it as police began to disperse the protests on West Florissant Avenue, with a helicopter beaming down a spotlight.
We could also hear the sirens of the acoustic weapons used to clear people out.
When "flash-bangs" exploded on the forecourt, a bit like a ground-level firework display, designed to move people on, we drove down a side street as the crowd ran towards us.
Several of them were spluttering and pouring bottles of water into their eyes as they felt the effects of tear gas. We saw one young woman collapse to the floor as she struggled to breathe, although she recovered some time later.
Protesters around me at an intersection on the edge of the neighbourhood are asking why the police dispersed what they say was a peaceful protest, more than two hours before the scheduled curfew.
Missouri Governor Jay Nixon has criticised police for releasing CCTV footage which apparently shows Michael Brown stealing some hours before he was shot.
He said the release of the footage "appeared to cast aspersions" on the dead man, who was not stopped by police on suspicion of robbery when he was shot.
"It made emotions raw," Mr Nixon told US broadcaster ABC on Sunday.
The killing of Mr Brown by a white policeman in a street on 9 August has inflamed racial tensions in the largely black suburb.
Demonstrators complained that the curfew would make matters worse.
Autopsy moves
The US justice department is investigating the shooting of Mr Brown, with 40 FBI agents dispatched to Ferguson to gather information.
A preliminary autopsy by the St Louis County Medical Examiner's office on the day after Mr Brown's death found he had been shot, police said, without disclosing how many times.
But in a private autopsy report, Dr Baden said Mr Brown was shot four times in his right arm and twice in his head, the New York Times reveals.
Ferguson police chief Thomas Jackson confirmed on Friday that the officer who shot Mr Brown was Darren Wilson, a six-year police veteran with no previous complaints against him.
Mr Wilson has been on paid administrative leave since the shooting.
The policeman had reportedly stopped the teenager for walking in the street, disrupting traffic.
Are you a resident of Ferguson? What do you think of the curfew? Email your views and experiences to haveyoursay@bbc.co.uk adding 'Ferguson curfew' in the subject heading and including your contact details.