Michael Brown shooting: Ferguson residents react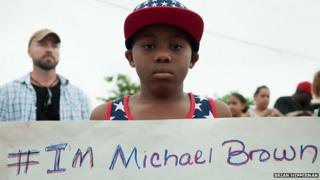 The police shooting of an unarmed black teenager on 9 August has sparked unrest and protests in the St Louis suburb of Ferguson, Missouri. The BBC's World Have Your Say is on the ground, speaking to locals about the conflict.
Relatives of Michael Brown, 18, said the community has come together to support them in their time of need.
An unidentified male cousin of Mr Brown's told the BBC, "It's hard but we're trying to get through it with all the support."
An unnamed female relative described Brown as "respectful" and "humble, very shy".
"The violence that they're doing right now messing our community up, he wouldn't have wanted," she added. "We're just keeping faith. We've got to have hope and pray because if you don't have hope and if you don't have faith and if you don't pray, we're not going to get justice."
'Overkill'
Earlier, following a rally organised by civil rights activist the Reverend Jesse Jackson, he described Mr Brown's death as part of "a pattern around the country of a black man being shot by white police, [falsely] arrested, stop and frisk, excessive jailing."
"This is a kind of lynching in 2014," Mr Jackson added.
Residents in Ferguson echoed Mr Jackson's frustration with the treatment of African Americans by police.
"[I have] been harassed by police so therefore I definitely know where a lot of people are coming from when they say police can stop you and just harass you and say, 'Where you coming from or where you been?', " an unidentified male resident told the BBC.
"I'm a grown man so why do I have to answer that? I haven't [done] nothing. Do you see me running? Did anybody call in?"
"Police abuse their authority. Some think that they're bigger than the law... When they stop us, they feel they've got more power than us," an unnamed man in a crowd said.
"It's power. They have the power, they feel we don't. That's why they do the things that they do. What they did to young Michael Brown, that's unnecessary. That's overkill."
One unidentified man said he feared for his family's safety from overzealous authorities.
"As men in America, we don't feel safe right now. We don't feel like we can protect our children," he said. "I have a son that's driving right now and I'm worried about him when he's on these roads. I have a wife and I'm worried about her."
'Disheartening'
More people said what had occurred in Ferguson represented a growing national problem.
"It's just disheartening to hear that the police had to shoot that young man so many times," one local resident said. "It's just a case where we as a community don't feel safe right now, not only [in] St Louis but also any other major city in the United States."
Shawn, also a Ferguson resident, said, "These are our young black men that are being gunned down in the streets all over America."
"The perpetrators seem to always get off. So it sends a message around the country and around the world that you can slay young black men at any point and as long as you're Caucasian... you can get away with it. Right now what's going on is a big fight from our African American people... We can't keep allowing these things to happen."
Shenae, a resident of nearby Jennings, said authorities' efforts to break up protests were about maintaining not law and order, but the status quo.
"They are trying to silence our voice. It's not about trying to keep order or trying to keep safety. It's about trying to keep us quiet so there is no change, there is no progress," she said. "So acts like what occurred to Mike Brown can continue to happen in our community. It's not the first time and it will not be the last."
'Rollercoaster'
Meanwhile, some people who spoke with the BBC described the protests in Ferguson largely as peaceful and communal, with a shared sense of purpose.
Sarah from nearby University City has spent four days in Ferguson.
"What they're not showing in a lot of the media is how diverse these groups of people coming out are and how welcoming everybody is," she said. "It's really wonderful to be in this community right now. There's so much love and support."
Another man described efforts by young men to protect several local stores and the greater community from looters.
"People care about this community and the people who are looting are not necessary residents of Ferguson. They're opportunists," he said. "It's really really sad to see that people still want to take advantage of the situation and feel that it's right to loot. But one sin is not greater than another and ignorance does not justify ignorance."
Chris Philips called the days since Brown's death "a really intense rollercoaster".
"I've seen good peaceful protests but then I've also seen a lot of violence. I've seen a lot of anger and animosity toward the police on both sides," he said. "I've sucked up that tear gas on two different occasions. It's been a really rough week and the way things have been going, I don't know when the end is going to come to it.
"And I think there's a lot of people like myself who are frustrated in this community and want to see justice done."