NY weighs charges in Eric Garner chokehold death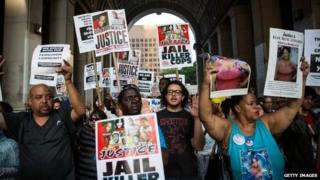 A New York grand jury is weighing criminal charges against a police officer in the death of a black man who died after being placed in a chokehold.
The prosecutor in Staten Island said he would present evidence next month in the July death of Eric Garner, 43.
Garner, who had asthma, was heard on a witness video shouting "I can't breathe!" as police arrested him for allegedly selling untaxed cigarettes.
A medical examiner has ruled his death a homicide.
'No fear'
Julie Bolcer, spokeswoman for the New York City medical examiner's office, said Garner's death was caused by "the compression of his chest and prone positioning during physical restraint by police", but said other factors contributing to his death included asthma and heart disease.
On Tuesday, Richmond County District Attorney Daniel Donovan, who has jurisdiction over the borough of Staten Island, said he had decided to call a grand jury following his own investigation and a review of the medical examiner's findings.
"With a full appreciation that no person is above the law, nor beneath its protection, I assure the public that I am committed to conducting a fair, thorough, and responsible investigation into Mr Garner's death, and that I will go wherever the evidence takes me, without fear or favour," Mr Donovan said in a statement.
New York City Mayor Bill de Blasio said he was "pleased" with the announcement.
"New York City deserves an investigation into the Garner case that is fair and complete," he said.
'He's breathing'
Garner's death provoked an outcry, especially after a video of Officer Daniel Pantaleo placing him in a chokehold became public.
A second video, apparently filmed shortly after, shows Garner lying on the sidewalk. Three minutes into the video, medics arrive and he is lifted into an ambulance. A bystander asks why no-one is trying to resuscitate him and one officer responds, "because he's breathing."
Garner died shortly afterwards.
Chokeholds are banned by the New York Police Department and Commissioner William Bratton has ordered an internal review of training.
Meanwhile, Mr Pantaleo has been stripped of his gun and badge while the investigation goes on, and another officer involved has been placed on desk duty.
A lawyer for the police officer said it was too early to say whether he would testify before the grand jury.