Canada MP Sana Hassainia quits party over Israel stance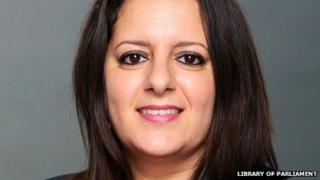 A Canadian MP from Quebec has quit the New Democratic Party, objecting to what she described as party leader Tom Mulcair's pro-Israel stance on the ongoing conflict in Gaza.
Sana Hassainia said she had been considering leaving the NDP for several months but took particular exception to a recent party statement on Gaza.
She will sit as an independent for the remainder of her term.
Mr Mulcair said she had never brought her concerns to him.
"A safe, secure state within negotiated borders for Israelis, and a safe, secure state within negotiated borders for Palestinians. That's been our position for many years." he told broadcaster CBC.
"It was [former NDP leader] Jack [Layton]'s position, it's mine and so she's decided that she doesn't want to sit with us, that's her choice."
The MP from Vercheres-Les Patriotes was first elected in 2011.
In a blog post, Ms Hassainia said she had been considering the decision for several months but said that what she described as an increasingly pro-Israel stance on the latest conflict in Gaza had pushed her to quit.
"To declare that we are in favour of peace in the Middle East is not a position, in fact it's a non-position - it's a way to avoid the issue and postpone a discussion on a topic that 'angers'," she wrote.
She also accused Mr Mulcair of punishing her for supporting another MP during the last leadership race by removing her from a committee position on the status of women.
Ms Hassainia had already decided she would not seek re-election and was negotiating with the party leadership over how to make the announcement, according to the Canadian Press news agency.
The NDP are the second-largest party in the Canadian House of Commons.