Kentucky firefighters injured in ice bucket challenge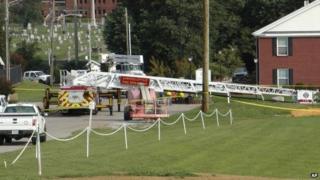 Two Kentucky firefighters are being treated for severe burns after suffering electric shocks while helping students participate in the "ice bucket challenge", local media report.
The ladder from which they dumped water on a marching band on Thursday was too close to a power line.
One man is in a critical condition and the other is in a fair condition.
The social media challenge has raised $41m (£25m) for a group advocating for Lou Gehrig's disease research.
The degenerative neurological disease is also known as ALS (Amyotrophic lateral sclerosis).
Fire Capt Tony Grider, 41, and Simon Quinn, 22, were in a bucket at the top of the fire lorry's ladder when they were shocked.
Campbellsville Police Chief Tim Hazlette told the Associated Press news agency the power line was not touched, but the high voltage energy from the line energised the lorry, shocking the two men.
Two other firefighters helping were treated and released from another hospital.
The students attend Campbellsville University, a small Christian university.