Burning Man closed on opening day by rain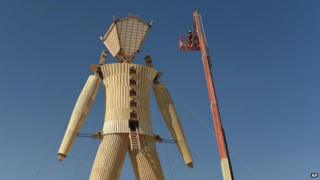 Burning Man, the annual counterculture event in the desert of northern Nevada, has been closed on opening day amid rare heavy rains.
Organisers said the gate to the temporary desert city would be closed until at least midday on Tuesday as the Black Rock desert playa turned to mud.
Police were turning people around at the entrance to avoid stuck vehicles.
Many of the would-be attendees began setting up camp at nearby Pyramid Lake, local media reported.
Hundreds of people gathered outside a shop on Monday to buy camping permits, the Reno Gazette-Journal reported.
"We're going to make the best of the situation," Charlie Lucas, of Portland, Oregon, told the newspaper.
Last year, a record 68,000 people attended the event, which ends with the burning of a four-storey effigy.