US F-15 military jet crashes in Virginia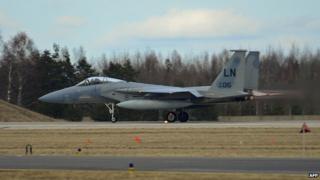 A US military jet has crashed in Virginia but the fate of the pilot is unknown, military officials say.
Witnesses near the crash site in the town of Deerfield reported hearing a loud noise and seeing a large plume of smoke in the sky.
Officials lost contact with the Massachusetts Air National Guard F-15 shortly before the crash, police said.
No injuries on the ground have been reported and rescue workers have been dispatched to the area, police added.
Major Matthew Mutti, a spokesman for the Massachusetts Air National Guard, said the single-seat aircraft had been on a routine training exercise and had no munitions on board.
Augusta County Sheriff's office said the plane went down at around 09:00 local time (13:00 GMT).
Jenny McNeal, a spokeswoman for the sheriff's office, said the crash site was in a rural area near Deerfield town in George Washington and Jefferson National Forests.
Rebecca Shinaberry, a 63-year-old who lives on a farm near the crash site, told the AP news agency that she saw a "big plume of smoke" after hearing "the loudest noise I've ever heard."
The US Air Force currently has 249 F-15 jets in operation and they have been deployed to both Iraq and Afghanistan in recent years.
The type that crashed in Virginia was an F-15C, which costs $30 million (£18m).