Bob McDonnell corruption case goes to jury after 25 days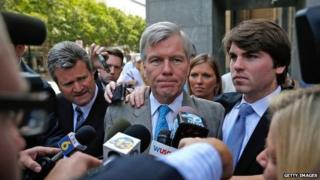 The corruption case of former Virginia Governor Bob McDonnell and his wife has gone to a jury after a 25-day trial.
They are accused of accepting more than $165,000 (£99,500) in gifts and loans from a businessman in exchange for helping his dietary supplement firm.
Defence lawyers have argued during the trial they did nothing illegal and the couple did not conspire because their marriage was strained.
Jurors will begin deliberating after receiving jury instructions on Tuesday.
The McDonnells face decades in prison if convicted on all charges.
They are charged with 14 counts in total, including fraud against the citizens of Virginia, obtaining property under colour of official right, conspiracy and false statements.
During closing statements, state prosecutor David Harbach said the McDonnells accepted gifts from StarScientific chief executive Jonnie Williams because they were badly in debt.
"He was on the Jonnie Williams gravy train, and he and Jonnie Williams had a deal: do what you can when opportunities arise and I'll keep paying," Mr Harbach said.
Mr Williams, who was offered immunity from prosecution for his testimony, told jurors he was not friends with the McDonnells but spent large amounts of money in anticipation of the governor's help.
Among the gifts were $15,000 for catering at a daughter's wedding, a $50,000 personal loan, the use of Williams' vacation home, and golf outings, as well as a $6,000 Rolex watch and $20,000 worth of designer dresses and accessories Maureen McDonnell allegedly sought.
Mr McDonnell held a product event for Star Scientific at the governor's mansion, invited the company's executives to a reception for healthcare leaders in Virginia, and made a personal pitch about a company product to the state, prosecutors said.
The only reason Star Scientific's supplement was not part of two state university-backed studies, Mr Harbach said, was because an aide for the governor "shut it down".
During his four-day testimony, Mr McDonnell said despite the lavish spending, what he did for StarScientific was no different from what he would do for any Virginia business.
'Quid no quo'
Lawyers for Maureen McDonnell told jurors during closing statements the former first lady was not a public official and was interacting with Mr Williams without co-ordinating with her husband.
Defence lawyers for both McDonnells have highlighted how their marriage grew increasingly strained as Mr McDonnell's political profile grew.
"This was a troubled, dysfunctional marriage," Henry Asbill, Mr McDonnell's lawyer said.
Defence lawyers also argued Mr Williams did not actually benefit from his relationship with the McDonnells.
"Jonnie didn't get anything. Nothing," Mr Asbill said. "This case is all 'quid', no 'quo.'''