Iran sanctions: US targets firms over nuclear links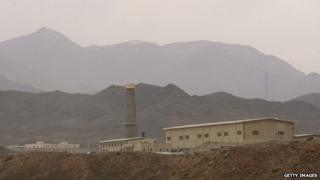 The US has imposed new sanctions on companies and individuals in connection with Iran's nuclear programme.
The sanctions target at least 25 firms and people suspected of helping the programme, evading previous sanctions or supporting terrorism.
But Washington said its actions were still consistent with its commitment to provide sanctions relief in exchange for steps to halt the programme.
World powers suspect Iran seeks atomic weapons, a claim it strongly denies.
The country insists that it is enriching uranium for use in nuclear power stations and for medical purposes.
In a statement, US Under-Secretary for Terrorism and Financial Intelligence David Cohen said that Washington's action in imposing these new sanctions "reflects our continuing determination to take action against anyone, anywhere, who violates our sanctions."
Senior administration officials said the latest round of sanctions included action against the Russia-based Asia Bank, which Washington says was involved in converting and delivering US dollar bank notes to the Iranian government.
They also targeted firms that have helped Iran support President Bashar Assad's government in Syria.
Iran and world powers have set themselves until 24 November to reach a permanent agreement resolving the nuclear dispute.
The next round of talks on the issue is expected in mid-September.