Court chides Belgium over terror suspect Nizar Trabelsi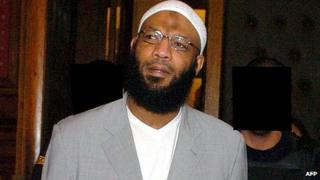 The European Court of Human Rights says Belgium was wrong to extradite a Tunisian terror suspect to the US, where he is accused of plotting to kill Americans abroad.
Nizar Trabelsi, once a professional footballer in Germany, faces a possible life sentence in the US with no prospect of review, the court said.
An irreducible life term breaches the "prohibition of torture" article in the European Convention on Human Rights.
Trabelsi was jailed in Belgium in 2003.
He is now in prison in the US, facing further terror charges, having been extradited last October.
In Belgium he was found guilty of planning to attack a Nato air base, Kleine Brogel. US military staff work at the base in Belgium and it houses nuclear missiles.
The US indictment says he met al-Qaeda leader Osama Bin Laden in early 2001 - the year that al-Qaeda carried out devastating attacks in the US. Trabelsi was arrested in Brussels just two days after those attacks.
The court ruling in Strasbourg on Thursday also found that Belgium had violated Trabelsi's "right of individual application".
Article 34 of the convention prohibits authorities from interfering with a suspect's right of appeal. The court found that Belgium had made it more difficult for him to exercise that right, by keeping him in solitary confinement and with limited contact with the outside world.
The judges told Belgium to pay him 60,000 euros (£48,000; $79,000) in damages and 30,000 to cover legal costs.