Pharmacist arrested over fatal meningitis outbreak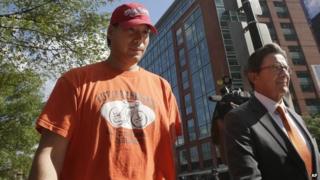 An employee of a Massachusetts compounding pharmacy linked to a 2012 outbreak of meningitis that killed 64 people has been arrested.
Glenn Adam Chin, a former pharmacist at the New England Compounding Center, was stopped as he tried to board a plane.
Investigators say Mr Chin did not properly sterilise or test equipment and then hid what he was doing.
His lawyer says he is being blamed for a contamination that is not fully understood.
"Mr Chin feels horrible about the consequences of this," Paul Shaw said.
About 750 patients in 20 states contracted meningitis after injecting a steroid mixed by the pharmacy, which custom mixes drugs in bulk. Patients in Michigan, Tennessee and Indiana had the most infections.
Mr Chin was charged with one count of mail fraud, but prosecutors said they were pursuing other charges.
"We are looking at Mr Chin for a host of other criminal conduct," Assistant US Attorney George Varghese said, adding an investigation against others was ongoing.
Prosecutors allege he used improper methods to sterilise and test the drugs, then instructed technicians to label the drugs as properly sterilised. He also allegedly fraudulently completed cleaning logs.
The former pharmacist's lawyer said Mr Chin was at the airport to attend a wedding in his wife's native Hong Kong, not fleeing the country.
"This was a publicity stunt," Mr Shaw said of the arrest, adding his family boarded the plane after Mr Chin was arrested.
One of the family members affected by the outbreak welcomed the charges.
"They should take every one of them and put the same contaminated injection in their back," Iona Rye of Michigan told the Associated Press news agency.
Her husband was in excellent health before receiving the injection, she said. He recovered but has some residual effects.
New England Compounding Pharmacy has since given up its licence and filed for bankruptcy after hundreds of lawsuits were filed against it.
A preliminary victim's settlement of more than $100m (£61.3m) was announced last year.