Hawaii volcano lava threatens homes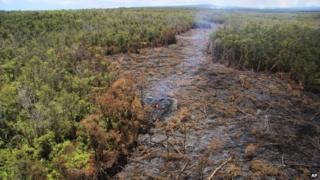 Hawaii's Big Island has declared a state of emergency as a lava flow from Kilauea volcano is less than a mile (1.6km) from a residential community.
The Hawaiian Volcano Observatory said the lava could reach the Kaohe Homesteads in about five to seven days.
Kilaeuea has been continuously erupting since 1983, but lava began flowing from a new vent on 27 June, moving 800ft a day.
Lava flows from the volcano previously wiped out neighbourhoods in 1990.
The emergency declaration will allow officials to restrict travel on certain roads to allow residents to evacuate.
No evacuation order is in place, but Hawaiian officials are telling those in the community and around the Puna district to be prepared.
During a community hearing on Thursday, residents were divided over whether to attempt to divert the flow, the Hawaii Tribune-Herald newspaper reported.
One resident said "to Native Hawaiians, Pele is our kupuna, she is our ancestor," referring to the Hawaiian goddess of volcanoes.
"This is her place and if she feels she needs to clean her house, then let her clean her house," Ihilani Niles said.
There are no plans for diversion attempts county civil defence official Darryl Oliveira said, because it could redirect the lava to another community.