Indian PM Narendra Modi to meet Obama at White House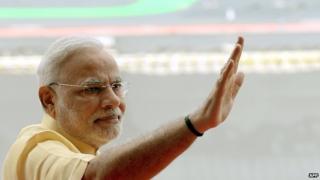 Indian Prime Minister Narendra Modi will hold two days of meetings with President Barack Obama in his first visit to the US since being banned in 2005, US officials have confirmed.
Mr Modi will visit the White House on 29-30 September.
The two leaders are expected to discuss issues "to expand and deepen the US-India strategic partnership".
Mr Modi was denied a US visa in 2005 after religious riots in the state where he was chief minister.
Mr Obama was looking forward to working with Mr Modi to "fulfil the promise of the US-India strategic partnership", said a White House statement.
"They will discuss ways to accelerate economic growth, bolster security co-operation, and collaborate in activities that bring long-term benefits to both countries and the world," it said.
"They will also focus on regional issues, including current developments in Afghanistan, Syria and Iraq, where India and the United States can work together with partners towards a positive outcome."
Denied wrongdoing
The visit will be the first made by Mr Modi to the US since a decision was made to ban him in 2005 based on a law that bars foreign officials accused of violating religious freedom.
Mr Modi, who became India's prime minister after a landslide victory in a general election in May, was chief minister of the western state of Gujarat when riots broke out between Hindus and Muslims in 2002.
Around 1,000 people were killed, the majority of them Muslims.
Mr Modi, who leads the Hindu right-wing Bharatiya Janata Party and who has affiliation with Hindu militant groups, was suspected of not doing enough to prevent the violence.
He denied any wrongdoing and was cleared by an inquiry panel, though critics say it was compromised.