Father accused of murder 'had bitter divorce'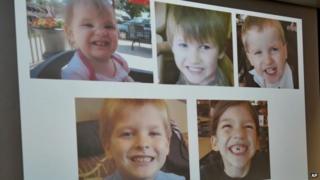 The man accused of killing his five young children and dumping their bodies had gone through a bitter divorce, court documents show.
The bodies of Timothy Ray Jones's children were found buried near an Alabama highway on Tuesday.
Aged one to eight, they were reported missing a week ago in South Carolina when their mother said she could not get in contact with her ex-husband.
Mr Jones, 32, is expected to appear in court on Friday
A memorial service will be held for the children on the same day in Mississippi, where other relatives live.
According to divorce papers obtained by the Associated Press, Mr Jones discovered his wife was having an affair two years ago.
The computer engineer graduate, who was working for the technology company Intel, was granted custody of his children, aged 1, 2, 6, 7 and 9.
Mr Jones and the children then moved into a series of homes around Lexington, South Carolina.
New neighbours said he was initially friendly toward them, but gradually became more withdrawn.
Local media reported Mr Jones told them he was preparing to move out of the state.
Police say he "willfully and maliciously killed his five children by violent means at his Lexington home" about a week before his ex-wife reported them missing.
Because Mr Jones had legal custody, police were not alerted to their disappearance for several days.
The children's mother told police there had been previous times when she could not get in touch with him for several days - but the children were all right.
'Stench of death'
Mr Jones is believed to have wrapped each of his children's bodies in a rubbish bag and put them in them in the back of his car, according to authorities in South Carolina.
He then drove for hundreds of miles, crossing several south-eastern states, before dumping the bodies near an isolated road in Alabama.
Mr Jones continued driving for several more hours until he was stopped at a drink-driving checkpoint in Smith County, Mississippi.
An officer reported he "smelled the stench of death" in the car.
Bleach and possible body fluids were detected in the back of the vehicle.
Police also found what were believed to be chemicals used to manufacture methamphetamine and a substance believed to be the street drug spice.
Mr Jones is currently being moved from Mississippi, where he was arrested, to South Carolina, where he will be charged.
On Wednesday his father, Timothy Jones Senior, asked people to pray for his family and his son, who he referred to as "Little Tim".
"Let it be known that people will come to their own conclusions and as parents we can understand that decision based on the circumstances," he said in a statement.
"But please remember that our Little Tim is a very loving father, brother and son."