Timothy Ray Jones waives court date in murder case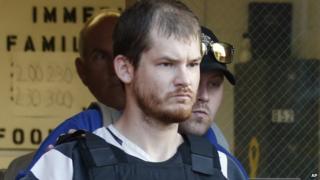 The US man accused of murdering his five children and dumping their bodies has waived his first court appearance, his lawyers have said.
Timothy Ray Jones, 32, was due to appear in court in his home state of South Carolina on Friday.
Lawyers said Mr Jones had a history of mental issues and he needed a health evaluation as soon as possible.
Meanwhile, details have emerged of visits by social workers to his home before the children were killed.
'Violent means'
A lawyer representing Mr Jones said he did not appear in court on Friday because he did not want to create a further spectacle.
Court documents have shown Mr Jones said he believed his court appearance could undermine his ability to receive a fair trial and potentially taint the jury pool.
Police have said the computer engineering graduate murdered his five children at his home in Lexington, South Carolina, a week before they were reported missing by his ex-wife.
The children, aged 1, 2 6, 7 and 9, were killed "by violent means", Lexington Country Sheriff Lewis McCarty said on Thursday, though no more details were given.
Mr Jones is believed to have wrapped the bodies in rubbish bags and loaded them into the back of his car before spending days driving hundreds of miles across several southern states.
He finally dumped the bodies off a rural road in Alabama.
Mr Jones was arrested on Saturday in Mississippi after being stopped at a police drink-driving checkpoint.
Authorities said drugs, bleach and body fluids were found in the car.
Three days later, Mr Jones led investigators to the bodies, police said.
Prior arrest
Social workers in his home town of Lexington have released a file they had compiled on Mr Jones, who was granted custody of his children after a bitter divorce from their mother.
The file notes a confrontation between Mr Jones and a social worker in October 2011 after the worker became concerned about clothes and food left scattered around his house.
A subsequent visit noted that Mr Jones had conducted a thorough clean-up.
Social workers also investigated a complaint that Mr Jones had made his children do exercises for punishment and had beaten them.
But they also recorded the children were well-fed and were not scared of their father.
A decade earlier, Mr Jones had been arrested in Chicago, where he grew up, for cocaine possession, car theft and burglary.
On Friday a memorial service will be held for the children in Mississippi, where other relatives live.