Detroit cuts off water for families - and hopes for future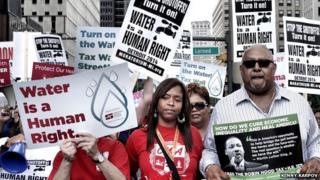 For months, thousands of families in Detroit have been living without water.
It is not because of natural disaster, but because of a controversial decision by the city to enforce bans for those who do not pay their bills.
But the plight of those without water - already among the poorest residents of any major city in America - is getting national and even international attention from human rights groups.
"It was early in the morning and I was making coffee when I saw the water truck and I ran outside," says Valerie Blakely.
She says she sat crying and shouting in front of her home as she witnessed what followed.
"He pulled [up] across the street and shut off my neighbour," she points down her road in North End in Detroit.
"He shut off that neighbour, and shut off that neighbour and that neighbour. I watched horrifically as they shut almost every house off of water."
She gets emotional as she describes those in her neighbourhood that day, saying they felt as though they had been cast out of society.
Since the spring in Detroit, Blakely and her neighbours have been among more than 17,000 households to get visits from the water company to have their supply cut off for non-payment of bills.
It is part of a drive to recover millions of dollars worth of lost water revenues in a city that desperately needs income. But it has pushed some of its most vulnerable residents to live in conditions more associated with the developing world.
For years, the Capuchin Soup Kitchen has opened its doors to the homeless. Now among those queuing to take a shower each weekday or to collect water from a tap outside are also families, even young children, who have had their water supply cut off.
"We're filling up our buckets to flush the toilet, to bathe with," says one woman, too embarrassed to want us to publish her name.
"We can't clean, we can't wash ourselves, it's really disgusting, and we need help. Half the people on my block have had their water turned off; we can't pay our bills.
"Sometimes we pay a neighbour to run a hose from his house to my house, but we a lot of the time we don't even have the money to do that. I am very depressed, we just need a break, we need water to survive," she says.
On weekday mornings, they can at least collect water from the soup kitchen, which is run by monks.
"We have to find a way to provide water for every human being," says Brother Jerry Smith, who is in charge.
"It is our right to have water. Our government has to find a way to provide water whether people can pay or not pay," he says.
There has been huge criticism of Detroit's policy. United Nations officials called it "a violation of the human right to water and other international rights", saying among the worst cases, sick people had been left without running water, and people recovering from surgery could not wash bandages.
They also talked of the relatively expensive water bills in Detroit, of nearly $60 per month, being outside the means of a significant proportion of the city's population.
There have been regular protests in downtown Detroit, including outside the mayor's office.
Mayor Mike Duggan has now announced steps to help people pay their bills - like cutting reconnection costs, payment plans and charity schemes to help with costs, but says those calling for an end to the policy of cutting water supplies were not being realistic.
"Somebody says 'water should be free', but I don't know how to filter water and to pipe it from the river to somebody's house at no cost," Duggan told a news conference.
"Right now, it is other Detroiters paying for it, with sometimes $15-$20 added to their water bill because they are paying other people's bills as well," he said.
But in Detroit - one of the poorest cities in the country, and one that has been declared bankrupt - people have already gone through so much.
We found Blakely (who had watched as most of the households in her street had their water shut off) sweeping. She had to manoeuvre around a large hole in her porch that she had not been able to get fixed.
Her neighbourhood is dotted with the abandoned homes of the tens of thousands of people who have left the city through its years of dramatic decline. Her eyes filled with tears as she talked of her situation.
"When people just say, 'Pay your bills', they don't have a full understanding of what's happening," she says.
"My husband was an auto worker, he lost his job, and our home was foreclosed on. Every year, we have struggle to make ends meet for our children. That is thousands of peoples' stories in this city."
She says, given what had gone before, having the water shut off that had been perhaps the most traumatic event for the people on her street to deal with.
"We had a feeling of not being valued, for something even as basic as water and complete despair set in."
In recent days, some Detroiters have come up with payment plans and have had their water restored, but others have had their water supply cut, joining the thousands who have been without water for so long.
Blakely told us that she, and many others around her in Detroit, were wondering how next they would be hit, and just what they had done to deserve their fate.