Obama awards Medal of Honor to Vietnam War soldiers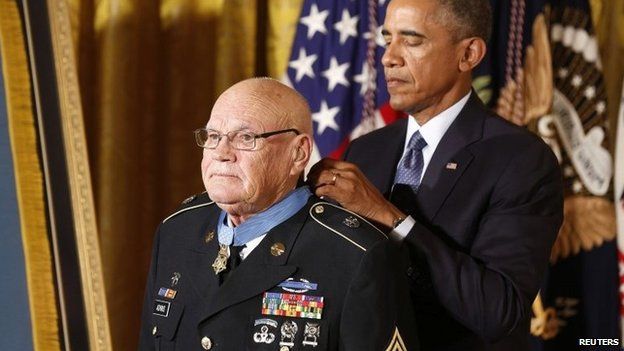 US President Barack Obama has awarded the nation's highest military decoration to two soldiers for acts of bravery during the Vietnam War.
Command Sgt Maj Bennie Adkins rescued wounded comrades during a North Vietnamese attack on a US camp.
Specialist Donald Sloat was killed in 1970 when he shielded fellow soldiers from a grenade with his body.
The men were granted an exemption from a requirement the Medal of Honor be given within three years of the action.
The Medal of Honor is awarded to US military members who have risked their lives in acts "above and beyond the call of duty".
Command Sgt Maj Adkins, 80, who served 22 years in the Army, will attend the White House ceremony. He served three tours of duty in Vietnam.
During his second deployment in 1966, then-Sgt First Class Adkins fought in close combat for 38 hours against a North Vietnamese attack on a US Army camp in A Shau valley.
Early in the battle, he dragged several wounded soldiers to safety through exploding mortar rounds as he himself was injured, according to an Army report.
"Bennie ran into enemy fire - again and again - to retrieve supplies, ammo, to carry the wounded to safety, to man the mortar pit," Mr Obama said at the White House ceremony, adding he lacked the time to recount the sum total of the veteran's heroism.
Sgt Adkins continued fighting to defend the camp with both mortar and rifle fire throughout another day.
When the order was given to evacuate, he and others destroyed papers to prevent them being captured, then dug their way out of the back of a bunker.
He and several others could not reach an evacuation helicopter because Sgt Adkins was carrying a wounded soldier, so he led remaining soldiers into the jungle, evading enemy forces for 48 more hours before being rescued.
Specialist Four Donald Sloat was born in Oklahoma and was killed in action at the age of 20.
While on patrol near Hawk Hill Fire Base, a soldier in his group triggered an enemy hand grenade booby trap.
Specialist Sloat picked up the grenade to throw it away, but he realised it was about to explode with Americans in the way. He drew the grenade into his body before it exploded, saving the lives of fellow soldiers.
"In that moment he could have run... he could have ducked for cover, but Don did something truly extraordinary," Mr Obama said, noting that two of the men who were on that patrol were in the audience.
His brother, William, was to accept the medal from the US president on Monday.