MacArthur 'genius grant' winners announced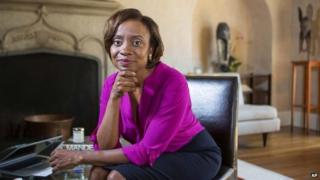 A physicist, a graphic memoirist and an organiser of home care workers are among this year's recipients of the MacArthur Foundation's "Genius" grants.
Each of the 21 MacArthur Fellows receives $625,000 (£383,000) over five years to use in anyway they want.
It is impossible to apply for the grant, and recipients do not know they are being considered.
Many of this year's winners work on issues facing minorities and underserved groups.
"I think getting this [grant] speaks to people's sense that this is the kind of work that needs to be done," said recipient Jennifer Eberhardt, a Stanford University social psychologist who researches racial stereotypes and crime.
Ms Eberhardt has been called on by the Oakland, California, police department to help them study racial biases among its officers and how those biases play out while they are policing.
Other winners include Sarah Deer, who has fought for legal rights for Native American women in sexual assault cases, Jonathan Rapping, a lawyer who works to improve legal representation for the indigent, and Joshua Oppenheimer, a documentary filmmaker whose work has covered the state use of violence.
Ai-jen Poo, the executive director of National Domestic Workers Alliance, told NBC News she planned to use the grant to create a fellowship for domestic workers at her organisation in order to help them learn the policies that affect their work.
Grants were also awarded to a playwright and two poets, a physicist working on brain connectivity, and cartoonist and graphic memoirist Allison Bechdel.
---
Artists and historians
Alison Bechdel, 54, Bolton, Vermont. Cartoonist and graphic memoirist whose narratives explore family relationships
Steve Coleman, 57, Allentown, Pennsylvania. Jazz composer and saxophonist recognised for creating a "distinctive new sound"
Rick Lowe, 53, Houston. Public artist who worked to revitalise a long-neglected Houston neighbourhood
Terrance Hayes, 42, Pittsburgh. Professor of writing at the University of Pittsburgh and poet whose work has focused on race, gender and family
Samuel Hunter, 33, New York, New York. Playwright whose work confronts what the foundation calls the "socially isolating" aspects of contemporary American life
"It's not an award for something I've already done," Mr Hunter tells the Washington Post. "They have faith in something I'm going to do in the future... I think it's really just about moving forward and continuing to improve."
Khaled Mattawa, 50, Ann Arbor, Michigan. Poet and translator of contemporary Arab poetry at the University of Michigan
Tara Zahra, 38, Chicago. University of Chicago professor whose research and analysis about 20th Century Europe helped create a "transnational understanding of events", according to the foundation.
Pamela Long, 71, Washington DC. An independent historian of science and technology in Renaissance societies
---
Advocates, civic researchers and organisers
Ai-jen Poo, 40, New York, New York. Labour organiser who has pushed to improve working conditions for domestic or private-household workers
Jennifer Eberhardt, 49, Stanford, California. Stanford University social psychologist investigating how racial bias and stereotypes affect law enforcement and sentencing
John Henneberger, 59, Austin, Texas. Co-director of the Texas Low Income Housing Service who has worked to expand affordable housing and make sure all communities have equal access to federal relief funds after natural disasters
Joshua Oppenheimer, 39, Copenhagen, Denmark. Documentary filmmaker who has covered topics such as state-sponsored violence
Jonathan Rapping, 48, Atlanta. Criminal lawyer who founded a programme to help public defenders provide better legal representation to the indigent
"Every year we think, 'Is this too big of a risk?' and now we have the financial freedom to do what we need to do," Mr Rapping told the Wall Street Journal.
Mary Bonauto, 53, Boston. Civil rights lawyer, director of the Gay & Lesbian Advocates and Defenders and a leader in the marriage equality movement
Sarah Deer, 41, Saint Paul, Minnesota. Professor at William Mitchell College of Law and advocate for Native American women at risk of domestic abuse and sexual violence
---
Technology and maths
Danielle Bassett, 32, Philadelphia. University of Pennsylvania physicist who applies mathematical approaches to analysis and modelling of brain connectivity.
"I'm still processing that this is actually happening," Ms Bassett told the Philadelphia Inquirer. She is the youngest of this year's fellows.
Mark Hersam, 39, Evanston, Illinois. Northwestern University materials scientist investigating physical, chemical and biological properties of nanomaterials
Yitang Zhang, 59, Durham, New Hampshire. University of New Hampshire mathematician recognised for a landmark achievement in analytic number theory
Jacob Lurie, 36, Cambridge, Massachusetts. Harvard University mathematician who created a new conceptual foundation for derived algebraic geometry
Craig Gentry, 41, Yorktown Heights, New York. Computer scientist at the IBM Thomas J Watson Research Center whose work has led to the possibility of more secure cloud computing
Tami Bond, 50, Urbana, Illinois. Environmental engineer at the University of Illinois and expert on global effects of soot on climate and health