Stolen E-Type Jaguar to be returned to owner - 46 years on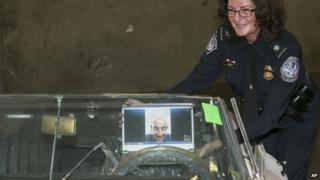 An 82-year old man in Miami is to be reunited with his E-Type Jaguar sports car, 46 years after it was stolen.
Ivan Schneider was a young lawyer living in New York when his pristine convertible went missing from outside his apartment in 1968.
For decades there was no news, but then in June, it was identified during a routine check on vintage cars being shipped to the Netherlands.
Mr Schneider said it was a "miracle" the car had been found.
The Jaguar is now back in the US, but not yet with Mr Schneider. He said that he now planned to restore it.
A US Customs and Border Protection official saw it had been reported stolen in June - two days into its journey to the Netherlands, where there is a high demand for vintage cars.
California Highway Patrol investigator Mike Maleta said the authorities arranged to have the ship operator transport the car back to Southern California in August.
Mr Schneider said the vehicle is now rusty and scratched.
Officials say the car is worth only about $23,600 (£14,000) because of its relatively poor condition and not the $100,000 (£61,000) a pristine model can command.
Mr Schneider was quoted by the Miami Herald as saying that from the moment he acquired the vehicle, he was in love.
"I've always said that she was the prettiest," he was quoted as saying, pledging not "to push her too hard" now that it was being returned to him.
The Herald comments that the car is old - like its owner - and "though beautiful is known for trouble under the hood".
"I'll use it as a Sunday car," Mr Schneider is quoted as saying. "They were never reliable."