Toronto Mayor Rob Ford vows to beat aggressive cancer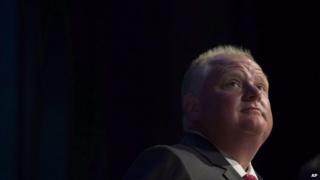 Toronto Mayor Rob Ford has thanked his supporters and told them he will beat the rare, aggressive cancer he was diagnosed with earlier this week.
On Wednesday, doctors said Mr Ford, 45, has a malignant liposarcoma in his abdomen and will begin chemotherapy.
"With the love and support of my family, my friends, and the people of Toronto - I will beat this!," Mr Ford said in a.
The controversial mayor has withdrawn from his re-election campaign.
Mr Ford began his statement by thanking the people of Toronto.
"I am humbled by your overwhelming kindness and support," he said.
"It means the world to us that so many of you have reached out to show concern and offer prayers."
He went on to encourage them to back his brother Doug Ford who is standing in his place in the 27 October election for mayor.
"Last week I asked my brother to carry the torch and continue the work we started together," he said.
"I'm happy that he's agreed. Toronto needs Doug Ford as Mayor."
Mr Ford, who admitted to smoking crack cocaine while in office, maintains a strong support base despite repeated calls for him to resign.
He has also been filmed threatening to kill an unspecified person, as well as making lewd comments about oral sex to journalists.
On Wednesday, doctors at Mount Sinai hospital in Toronto said they were optimistic Mr Ford would respond well to treatment.
Liposarcoma is a rare cancer of the soft tissue which accounts for only 1% of all cancers.
Mr Ford has a 12cm by 12cm sized tumour in his abdomen and another smaller 2cm tumour in his left buttock, which are believed to have grown within the last three years.
"It's a rare tumour, a very difficult tumour," said Dr Zane Cohen who is leading his treatment team.
And it was "impossible to predict" how chemotherapy was going to affect Mr Ford, he said. "I think he's a pretty strong person."
The other top contenders in the mayoral race are former NDP MP Olivia Chow and businessman and former leader of the Ontario Progressive Conservative Party John Tory.
---
Rob Ford's troubled mayoralty
May 2013: A video surfaces apparently showing him smoking crack cocaine
August: He seems intoxicated in an official appearance at a street festival, later says he has smoked "a lot of marijuana"
5 Nov: "I have smoked crack cocaine," the mayor admits, saying he did so "in a drunken stupor"
7 Nov: A second video surfaces showing a foul-mouthed Ford threatening to kill an unspecified person
14 Nov: Ford makes lewd comments about oral sex and says he might have driven while drunk
17 Dec: Ford apologises again, this time for implying, falsely, a Canadian journalist was a paedophile
April 2014: Starts re-election campaign
May: Halts campaign to begin treatment for substance abuse, as more videos surface
---