Managers convicted in US peanut salmonella outbreak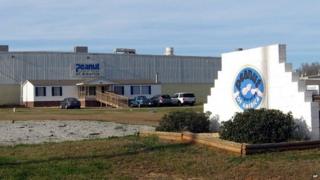 A federal jury in Georgia has convicted three people in connection with a salmonella outbreak that sickened hundreds and caused nine deaths in 2008 and 2009.
Former Peanut Corporation of America owner Stewart Parnell and his brother, Michael, were found guilty of conspiracy after a seven-week trial.
Quality manager Mary Wilkerson was found guilty of obstruction.
Prosecutors said managers had shipped products they knew were tainted.
The managers were accused of creating fake certificates saying the foods were safe when they either had not been tested or had been found to be contaminated.
More than 700 people in more than 40 states were sickened by the outbreak, including hundreds of children.
The charges carry maximum penalties of 20 years in prison, prosecutors say.
After the outbreak, the US Food and Drug Administration found widespread contamination at the company's plant in Blakely, Georgia, after identifying it as a possible source of the tainted peanuts and peanut products.
The plant roasted raw peanuts to make granulated peanuts, peanut butter and peanut paste. The products were sold across the US.
The company went bankrupt after a recall of its products.
In 2010, a judge approved a $12m (£7.7m) settlement to compensate more than 100 salmonella victims.