Wesleyan University fraternities ordered to admit women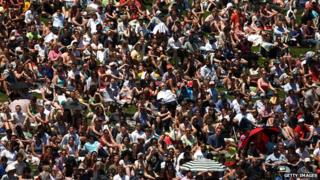 A prominent US university has ordered two fraternities to accept women members within the next three years.
"Women as well as men must be full members and well-represented," Wesleyan University president Michael Roth said.
Non-residential fraternities and the university's one non-residential sorority will not be affected.
The move comes amid a national debate over sex assault and binge drinking on campuses, but a spokeswoman said it was not a response to a single incident.
In March, a Wesleyan student sued a fraternity, alleging she was raped at one of its parties.
Wesleyan University closed another frat house in early September after a woman fell from a third-storey window.
"This has been the subject of ongoing concern and discussion among the people in the administration, the school community, the alumni community and so forth for a number of years," spokeswoman Kate Carlisle told the Associated Press.
Campus sexual assault has been a growing issue in the US, with one in five women believed to have been assaulted while attending university.
Only 4% of men attending Wesleyan participate in fraternities, and the school has had a co-ed fraternity for years.
The policy changes affect Delta Kappa Epsilon and Psi Upsilon.
In US universities, fraternity and sorority culture is often referred to as "Greek" life.
In a letter outlining the change, Mr Roth and board of trustees chairman Joshua Boger said the university's "residential Greek organisations inspire loyalty, community and independence".
"That's why all our students should be eligible to join them.
"The university looks forward to receiving plans from the residential fraternities to co-educate, after which it will work closely with them to make the transition as smooth as possible."
Wesleyan University would be the second in Connecticut to order their fraternities to admit women.
Trinity College in Hartford began the transition in 2012 after a campus report found numerous problems related to drinking and drug use among fraternal organisations.