Michael Brown: Ferguson protests flare up again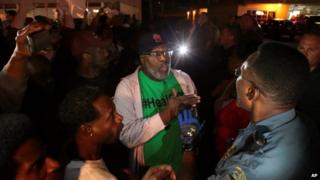 Police in Ferguson have said they will not tolerate further violence in the town after protesters looted shops and harassed officers on Tuesday night.
There were violent clashes between police and demonstrators after the shooting of an unarmed black teenager by a white policeman last month.
Police said on Wednesday morning that two officers were injured after confronting the crowd the night before.
Earlier, a memorial to the teenager burnt down in a suspicious fire.
Michael Brown, 18, was shot by Officer Darren Wilson on 9 August after being stopped for walking in the street.
His shooting led to nights of running street battles between protesters and heavily armed police.
Although community leaders and politicians were successful in calming Ferguson's majority black population, the town remains tense with many demanding Mr Wilson's prosecution for the shooting.
'Not tolerated'
On Tuesday night, a shop was looted and vandalised and rocks thrown at police.
A decision was made to disperse protestors after an officer was harassed, said Capt Ron Johnson of the Missouri state highway patrol.
"This behaviour will not be tolerated," he said.
The renewed violence came as a St Louis grand jury decides whether or not to charge Mr Wilson with Brown's shooting.
It is unclear when they will make a decision. A separate investigation by the US justice department is ongoing.
Earlier on Tuesday, a memorial on the street where Brown was shot was burnt down in suspicious circumstances.
Police said the cause of the blaze was under investigation, and local residents suspected arson.
One man told the Associated Press news agency it was like a grave had been desecrated.
A separate memorial marking the spot where Brown died was not damaged in the fire.
Candles have been part of both memorials on the street for weeks, the St Louis Post-Dispatch reports.
But resident David Whitt was among several who said they smelled gasoline, the newspaper reported.
"There was no way a candle did this," Mr Whitt told the newspaper. "That fire was burning too high and too hot."
Several hours later, the memorial had been rebuilt with new teddy bears, flowers and signs.