Three charged in Philadelphia 'hate crime'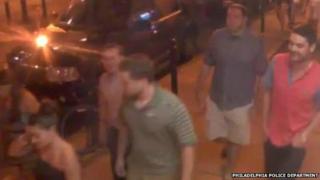 Philadelphia police are seeking three people in connection with the beating of a gay couple in the city centre.
Philip Williams, 24, Kevin Harrigan, 26, and Katherine Knott, 24, are accused of multiple charges including aggravated assault.
Two men went to hospital with injuries after the 11 September attack, which police say was preceded by disparaging remarks about their sexual orientation.
Social media users said they had identified the suspects through CCTV.
In a statement, Philadelphia District Attorney Seth Williams called the assault "a vicious attack" and thanked the public for an "outpouring of information and tips in this case".
"An assault on people because of their sexual orientation has no place in Philadelphia," Mr Williams said.
Investigators appear to have been aided by a loosely organised team of social media sleuths.
Soon after the attack, police published on Youtube CCTV footage of the alleged perpetrators walking on a city street.
Then, Twitter and Facebook users said they had matched the images of the attackers to photographs taken the same night at a Philadelphia restaurant near the scene of the assault.
One investigator thanked one of the users on Twitter, BBC Trending reports.
Police say the couple were assaulted near the city's popular Rittenhouse Square district on 11 September.
The incident allegedly began after one of the victims bumped into a one member of a group and another member of the group made disparaging comments about the men's sexual orientation.
Both men were brought to hospital with severe injuries. One man's face was fractured.
Each of the accused will be charged with aggravated assault, simple assault, recklessly endangering another person and criminal conspiracy.
While prosecutors have said the crime was motivated by the victims' sexual orientation, no hate crime charges will be filed because Pennsylvania's hate crime statute does not cover sexual orientation.
Several city officials and Philadelphia's police commissioner have called for an expansion of current hate crime law, according to the Philadelphia Inquirer.