US to pay Native American Navajo tribe $500m settlement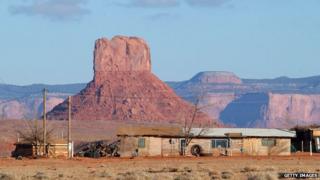 The US government has agreed to pay $554m (£339m) to the Native American Navajo tribe to settle a legal dispute.
It is the largest payment ever made by the government to a single tribe.
The litigation included claims that dated back more than 50 years, with the US accused of mismanaging resources on tribal lands. The Navajo Nation has now agreed to waive these lawsuits.
The US has previously reached similar agreements with other tribes over the use of their land and goods.
'Historic agreement'
The Navajos are the largest Native American tribe, with more than 300,000 members.
About 14 million acres (5.7 million hectares) of Navajo land is leased out for purposes including farming, oil and gas production, and mining.
Navajo Nation President Ben Shelly called the settlement a "victory for tribal sovereignty".
The "fair and just compensation for the Navajo Nation" came after "a long, hard-won process", he said.
Navajo officials stressed that the settlement did not prevent the tribe from filing lawsuits over the US government's future conduct, or separate potential claims over water and uranium pollution.
Meanwhile, US Attorney General Eric Holder said: "This historic agreement resolves a longstanding dispute between the US and the Navajo Nation."
The deal showed the government's commitment to "strengthening our partnership with tribal nations", he added.
In 2012, the US reached a similar settlement with 41 tribes, agreeing to pay out about $1bn.