NY postman Joseph Brucato 'hoarded' a tonne of mail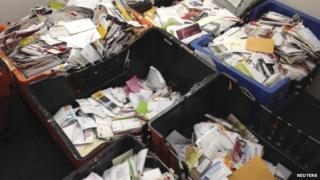 A New York postman hoarded as many as 40,000 pieces of undelivered mail in his home, car and work locker over nine years, prosecutors have said.
Joseph Brucato, 67, was arrested on Wednesday after a supervisor saw undelivered post in his personal car, where it was forbidden by policy.
Postal investigators subsequently found 2,500lb (1.1 tonnes) of mail dated as far back as 2005.
Mr Brucato's lawyer said in court his client suffered from depression.
But the lawyer did not give a reason why Mr Brucato had allegedly taken the letters.
As a condition of his release pending a court hearing, Mr Brucato was ordered to "abstain from excessive alcohol consumption".
According to court records, Mr Brucato became a postman in 2001 and had been assigned a regular route in the New York borough of Brooklyn for the past 11 years.
When confronted by postal investigators about the undelivered mail in his vehicle, Mr Brucato said he had been keeping mail there for six months and "on some days... did not deliver the mail intended for his route for various personal reasons", according to a federal criminal complaint.
A search of Mr Brucato's residence, vehicle and locker at work found even more mail that investigators said was post marked as early as 2005.
The hoarded mail was bound for businesses and residents in the Flatbush neighbourhood of Brooklyn.