Hannah Graham: Suspect 'linked to unsolved 2009 case'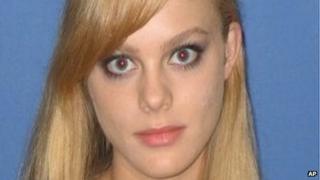 The investigation into a missing British-born student has provided a "significant break" in a 2009 unsolved murder case, Virginia police have said.
The arrest of Jesse Matthew, 32, accused of abducting Hannah Graham, 18, has led to forensic evidence related to Morgan Harrington's murder.
Harrington was found dead three months after she went missing from a concert.
Ms Graham was last seen on 13 September in Charlottesville, where she is a university student.
Police are still looking for Ms Graham and have offered $100,000 (£61,200) for information on her whereabouts.
Mr Matthew was taken into custody by police in Galveston, Texas, several days after he drove away from a Charlottesville police station.
He was seen walking with Ms Graham on CCTV footage the night she disappeared from Charlottesville and has now been charged with abduction with intent to defile in connection with her disappearance.
On Monday, Virginia state police said Mr Matthew's arrest "provided a significant break" in the Harrington case with a "new forensic link for state police investigators to pursue".
The statement did not give specifics about the forensic evidence.
Charlottesville police searched Mr Matthew's apartment and took several items of clothing.