Dutch tourist drone pilot fined for Yellowstone flight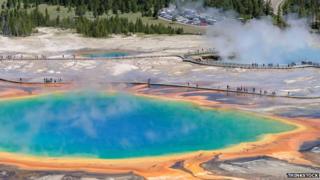 A US judge has fined a Dutch tourist for crashing a drone into a hot spring in Yellowstone National Park.
Theodorus Van Vliet was ordered to pay more than $3,000 (£1,847) for flying the unmanned aerial vehicle into the Grand Prismatic Spring in August.
Mr Van Vliet pleaded guilty last week to illegally operating the drone, which has yet to be located by authorities.
He is the second person found guilty this year of violating the National Park Service's strict no-drone policy.
A 37-year-old man from Germany pleaded guilty last week to crashing a drone in Yellowstone Lake. He was fined $1,600.
A third drone case, said to involve a man from Oregon, is also pending.
US National Park Service Director Jonathan Jarvis signed a policy memorandum in June prohibiting launching, operating or landing any unmanned aircraft on any park service property.
"We have serious concerns about the negative impact that flying unmanned aircraft is having in parks, so we are prohibiting their use until we can determine the most appropriate policy that will protect park resources and provide all visitors with a rich experience," he wrote in a statement at the time.
The ban was said to be initiated after park visitors submitted noise and nuisance complaints regarding the drones, and raised human and wildlife safety concerns.
The Grand Prismatic Spring in Wyoming is the largest hot spring in the US.